Vacuum Forming
Vacuum Forming
A very uniqu area where e.g. some of our flat nets and protective sleeving types are applied in different processes in connection with vacuum forming and packing.
Vakuum Forming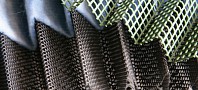 These net types are used to ensure
that the distance between the vacuum
packed items that are being vacuum
packed or formed is kept.
Please contack us for further details.